Hokitika Guardian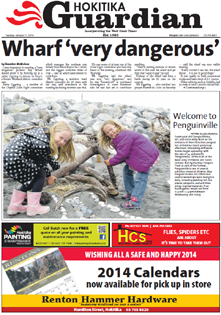 Hokitika Guardian is the Evening Star's second subscription publication.
A Monday to Friday morning edition, it primarily serves the Hokitika area.
Hokitika Guardian is tabloid format with full colour capacity and focuses on local/community news and sport.
Headquartered in the main street of Hokitika, the Hokitika Guardian office is electronically linked to the Greymouth Evening Star, where the edition is printed.
First published in 1865, the Hokitika Guardian is one of the country's oldest newspapers.
ADDRESS
18 Weld Street
PO Box 122
Hokitika 7810
New Zealand
CONTACTS