The Star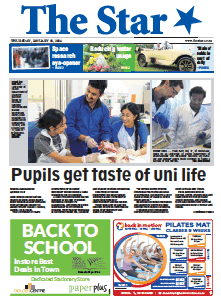 The Star community newspaper circulates weekly throughout the urban area of Dunedin city and its environs.
Packed with Dunedin news and views, The Star is delivered free to more than 48,000 homes on Thursdays.
This weekly tabloid community newspaper proudly presents detailed community news plus news items, people profiles and coverage of the city's arts, sport and business worlds.
The distribution area includes Dunedin, the historic township of Port Chalmers with its busy container terminal, Mosgiel the Taieri Plains, the former boroughs of Green Island and St Kilda. Papers are also available at Waikouaiti, Middlemarch and other outlying villages.
With excellent use of colour and the advantage of being printed on a Webb offset press, The Star is an excellent medium for businesses and non-commercial organisations to promote their activities to the city's 120,000 residents.
ADDRESS
PO Box 517
Dunedin 9054
New Zealand
CONTACTS
WEBSITE
MOBILE APPS
FOLLOW
  Facebook:
StarDunedin
  Twitter:
@TheStarDunedin