The Southland Express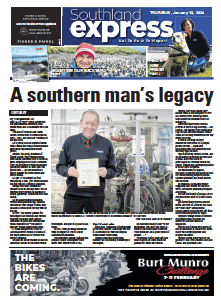 The Southland Express is a weekly tabloid community newspaper based in Invercargill, New Zealand's southernmost city.
The Express is delivered free to all households in the Invercargill area and most of the Southland district. This newspaper carries items of topical interest, and is a strong medium for promotions in the Southland region.
The Express focuses on community news and comment from local political leaders. It also contains a wide range of features and promotions including a dedicated events page, an entertainment page weekly, kidz express and the property press each week.
Published weekly on Thursdays, the Southland Express is printed on a Webb offset press and makes strong use of colour.
ADDRESS
5 The Crescent
PO Box 354
Invercargill 9810
New Zealand
CONTACTS
WEBSITES
MOBILE APPS