Channel 39, Southern Television
Dunedin Transmission Pattern
Channel 39 was first established as a tourist information channel and known as Channel 9. When the closure of New Zealand's regional television network occurred in 1997, Channel 9 was expanded to a full news-carrying local television station. To this day, the station is Dunedin's only local television station and the city's local evening news source. In 2003, there was a reinvigoration of strategy and direction which focused on local news as the flagship programme for the station, and has consistently followed that principle since. Now known as Dunedin Television, the station is locally owned, with a local staff and an unashamedly local view of things. It operates as a separate trading division of Allied Press Limited. As such, it is backed by a quality-driven media company with a strong dedication to the local community.
Channel 39 operates a live-to-air studio and a small production house. Our aim is turn out quality television that focuses on the local people and region. We produce good quality, inexpensive commercials and short programmes. Through outside broadcast facilities we facilitate coverage of local, sporting and interest events in an affordable manner. Channel 39 offers the only way to broadcast your local event to the Dunedin and Invercargill cities. It also provides an advertising opportunity for local businesses direct to the local market.
In March 2013, Channel 9 was rebranded to Dunedin Television when New Zealand switched to Digital Television. It is now broadcasting on Freeview|HD Channel 39, with an expanded coverage area, transmitting from the same mast as the main network channels. Since going digital it has expanded its local productions in partnership with local organisations such as the Dunedin City Council and other organisations, and is now broadcasting more local content than at any time in its recent history.
From the 1st of September 2016, Channel 39 extended it's coverage to include Invercargill.
TERRESTRIAL BROADCAST
  Freeview|HD - Channel 39 (Dunedin & Invercargill Only)
  TiVo - Channel 39 (Dunedin & Invercargill Only)
  Igloo - Channel 85 (Dunedin & Invercargill Only)
STREET ADDRESS
Channel 39 Dunedin
Third Floor
52 Stuart Street
Dunedin 9016
New Zealand
Channel 39 Invercargill
Ground Floor
5 The Crescent
Invercargill 9810
New Zealand
POSTAL ADDRESS
Channel 39 Dunedin
P O Box 517
Dunedin 9054
New Zealand
Channel 39 Invercargill
P O Box 354
Invercargill 9840
New Zealand
CONTACTS
Channel 39 Dunedin
Phone: +64 3 474 7447
Fax: +64 3 474 7428
Email: Please refer to the station contacts page
Channel 39 Invercargill
Phone: +64 3 218 4818
Fax: +64 3 214 4179
Email: Please refer to the station contacts page
WEBSITE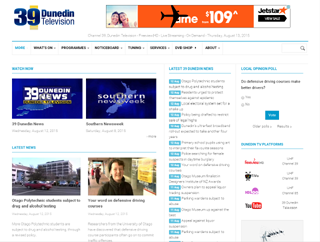 Channel 39
ON DEMAND
   Youtube:
39 Southern News
   Webcast:
The South Today News
   Webcast:
Southern Newsweek
FOLLOW
  Twitter:
@39SouthernTV
     Facebook:
39SouthernTV
     Facebook:
Southern Attractions
     Facebook:
GirlsTalkDunedin