Commercial Printing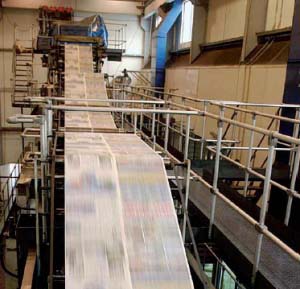 Commercial printing within Allied Press is handled using the Goss Universal 70 offset press.
The Goss Universal 70 was installed at Allied Press during September of 1998. The press configuration comprises 5 x 4-high tower and 1 x mono printing units that are capable of printing 70,000 copies per hour in straight mode. When printing in this fashion the paper flows at 11.3 meters per second through the machine.
The maximum page size that the Goss Universal 70 can handle is 578 x 914 mm, although the normal size is generally 578 x 800 mm. On average, these machines use more than 100 tonnes of paper and 8750 litres of water a week.
Allied Press' expertise in high speed, large volume printing work makes is the ideal choice for competitively priced printing. The Commercial Printing Team at Allied Press are happy to quote on printing work at any time.